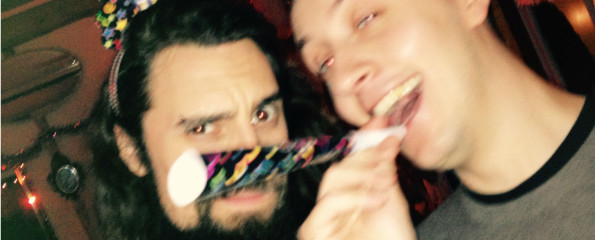 Last year, I conducted an experiment. I made this new year's resolution:
This year, I shall make every significant decision as a resolution. I am going to actually do what I say I am going to do, including the things I have always said I am going to do, but have thus far never done.
I therefore spent the entire year trying to follow through on each one of my whimsical decisions.
It was…exhausting. However, amongst the bizarre results were some notable events:
Hunted the Northern Lights in Iceland
Ran Tough Guy and Nettle Warrior again
Got published in Obstacle Race Magazine
Got 10% of my body tattooed
Completed the British Action Academy Warrior Masterclass
Appeared as the evil Spirit of Winter in a Shaolin Temple mini-movie
Featured in a few films and TV series…es
Played Bowa Town's first gig
Wrote a book and got it published
Slept in the Sahara desert
Wrestled for Lucha Britannia
Filmed a music video
Admittedly, those weren't all things that I had ALWAYS WANTED TO DO. Yet they represent a fun thing for every month of the year, with a smattering of realised long-term ambitions. Given that I had a 4-day per week job for 2/3 of the entire year, I'm pretty happy with the effort!
My main new year's resolution for 2015 is a secret for now. But I've started working on it already. It's going to be awesome.
Otherwise, expect more of the same, plus the following extra resolutions:
I will write and perform new music with Gay Bum.
I will perform gigs with Bowa Town and make our first demo recordings.
I will perform in as many wrestling shows as possible.
I will write at least three more short comic books and get them published.
I will perform various stunts and combat scenes in various movies. That one needs work: it's fairly non-specific…
I will visit new parts of the world – including Cuba!
HAPPY NEW YEAR!
Oh and, in case you're interested, here are some details about 2014's activites:
Hunting the Northern Lights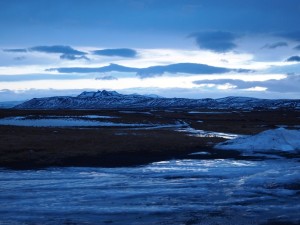 I, like everybody, have always wanted to see the Northern Lights. The thing is, that's not something you can really choose to do. You can easily go to somewhere where you might see them, but you can't guarantee they'll be visible.
Even so, I donned my lime green vegan hiking boots and struck out into Iceland in the middle of winter. There, I spent the best part of a week hunting down the Northern Lights. A friend who went out 5 days before me saw them. A friend who went out 3 days after me saw them. I, however, did not see them. Nor did anybody else in Iceland: there was – very temporarily – way too much cloud cover.
Oh, and it was the Full Moon. Even so, Iceland quickly became one of my favourite places in the world, and it will be no hardship at all to go back as soon as possible and hunt the lights again.
Getting Tattooed
I've been interested in tattoos for as long as I can remember and have always liked the idea of getting tattooed. Hitherto, however, I've always given that typical excuse: "I don't know what I'd get…"
It was as if I thought I had just a single chance to get the one perfect tattoo; as if the 'right' thing to get would one day magically pop into my head; as if I might somehow one day design my own; as if the obvious thing to do wasn't find the right artist and let them do their job.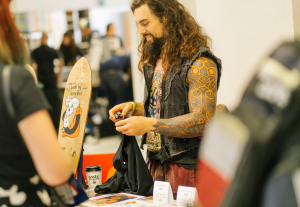 This year, therefore, I hunted down the greatest tattoo artist I (and the internet) could find – Peter Madsen of the Meatshop in Copenhagen – and let him spend nine whole days creating whatever he wanted out of 10% of my entire skin. The result is better than anything I could have possibly imagined. I've never seen anything like it.
Moreover, the entire process – pain and healing included – was one of the best experiences of my life. I feel simultaneously relieved and full of regret that I didn't get tattooed sooner.
Stunt and Screen Combat Training
Having spent most my life performing staged combat and seemingly dangerous activities for people's entertainment, a career in stunts and screen combat has always seemed like a logical step forwards. Having started working as a stunt man, however, I decided that I should pursue some formal training. I therefore signed up with the British Action Academy.
Over six months of hard bloody work, I fought my way through all four phases of their Warrior Masterclass. I'm now an Ultimate Warrior level Screen Combatant and have successfully had the shit kicked out of me in at least half a dozen movies and TV shows so far.
Writing a Book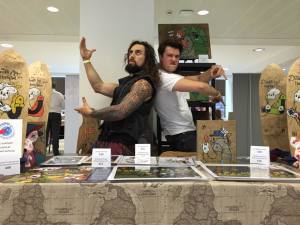 Everybody has a book in them, right? It's just a case of making the time to force it out, then coming to terms with how terrible it is. Despite knowing that, I started writing a book in late 2013  with Darrell Thorpe as the illustrator. This year, we said we would finish the damn thing…and we did!
We presented it at Comic Con in Nottingham, it got spotted by a publisher and goes to print in February. It'll be availably globally in April 2015. Wow. That's the first time I've written that down. It feels…real…
Going to the Sahara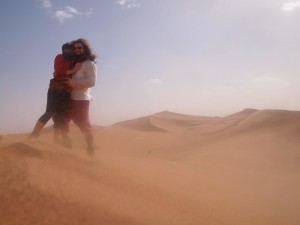 I don't feel I need to explain why I wanted to see the Sahara desert, or Morocco in general. If you don't understand why that was a desire of mine, I don't think a collection of words will help.
Suffice to say, we flew to Morocco and travelled, by bus, 4×4 and camel to the Erg Chigaga dunes in the Sahara desert.
If you're honestly interested, you can read much more about our journey here.
Performing for Lucha Britannia
Lucha Britannia is my favourite wrestling organisation. It has been since the very first time I saw them perform. Their magical form of lucha libre embodies what I love about wrestling. Two years ago, I started training at the London School of Lucha Libre, hoping to one day join their show.
This December, I debuted at Lucha Britannia – at it was every bit as awesome as I expected it to be. By my 28th birthday, I'll have done half a dozen shows with them.
Here's to a powerful 2015! It has started with our boiler breaking and somebody crashing into our 4 month old car. So…you know… Onwards and upwards!
Mainly upwards, hopefully.