This weekend, the Ghost Squad descended upon Coventry for the inaugural Mudnificent 7, mud racing expo and combo-race. Seven different obstacle races, each of whom transformed 1km of a park into a representation of their own race:
Tough Guy
Big Foot Challenge
Reaper Events
Bear Grylls Survival Run
The Ram Run
Airfield Anarchy
Aztec Warrior

Naturally, we were in the Tough Guy zone – as the legendary Ghost Squad.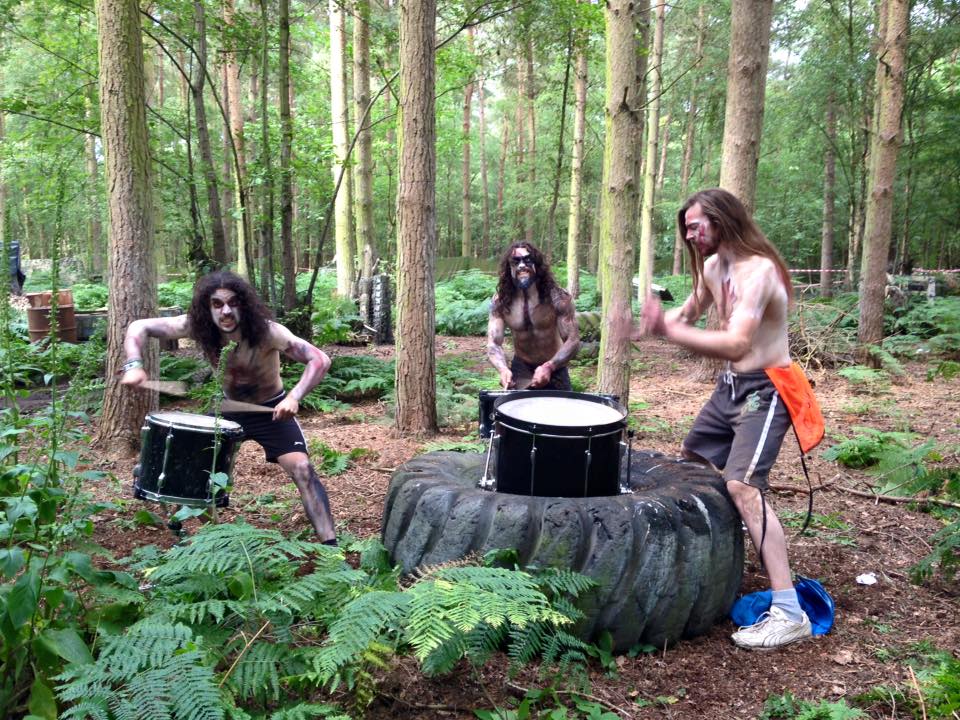 The idea was for five waves of runners to be released, one after the other. As each wave passed through our section (third of seven), we would beat our war drums, bellow and generally do anything to recreate the unique atmosphere of Tough Guy, whilst encouraging the poor souls through the gruelling challenges laid before them.
However, thanks to some amateur obstacle planning by the preceding races, it didn't happen that way. With people queuing for up to 45 minutes to pass through one-at-a-time obstacles, the waves were mashed into one long stream of people.
This meant no breaks for the war drums and bellowing. At all. For five hours solid.
Luckily, we weren't just The Ghost Squad. We were, all three of us, Guildsmen of the Guild of Adventurers. When it comes to bashing things, we cannot be outdone. Or, at least, we won't be…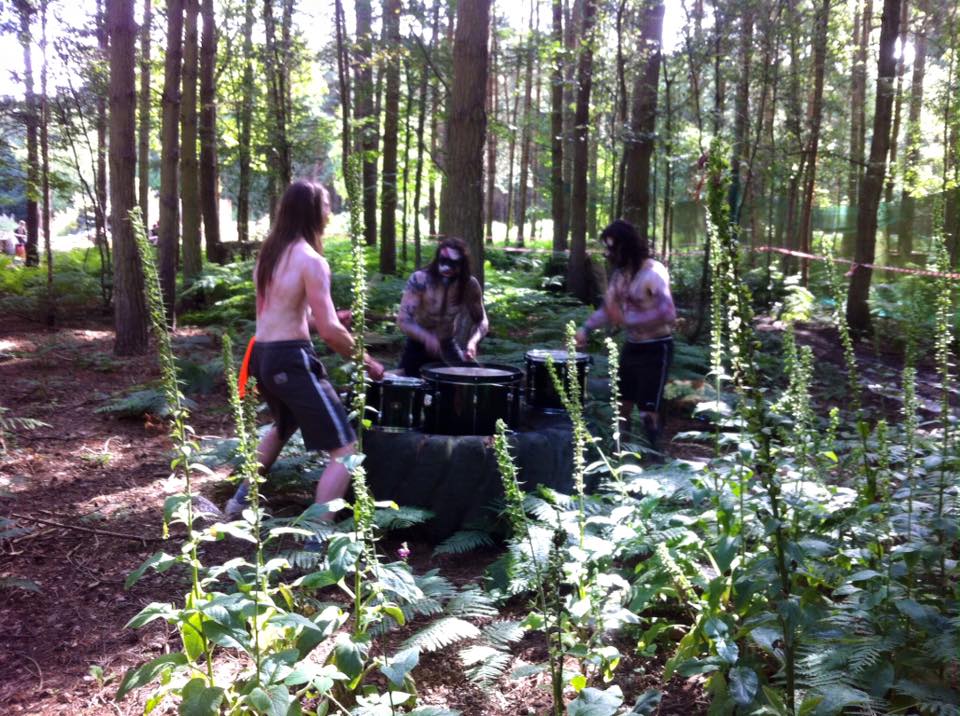 It was, however, more than worth it just to see looks of people's races as they trudged around the corner to be presented with what can only be described as a masterclass in OCR.
Tough Guy invented this sport. They know how to do it better than anybody else, and it showed. The McTough Guy clan had been there for days, creating an excellent series of obstacles that challenged everybody, whilst maintaining the flow of runners and keeping everybody amused and entertained.
40kg wooden crosses to carry. Cargo nets to crawl beneath. A temporary version of our torture chamber to navigate. And, of course, the famous lollipop heads challenge – which involves ducking under the mud, to get beneath giant logs.
The Tough Guy crew made sure our kilometre was built perfectly and executed flawlessly, with the added advantage of us – the Ghost Squad – hurling smoke grenades and ceaselessly pounding on war drums which, as it happens, could be heard around the whole course.
We could see it in their eyes:
Finally, a race that doesn't take itself too seriously.
Finally, a race with some atmosphere.
Finally, a race that understands what this sport is about – because it INVENTED IT!
To quote the excellent obstacle racing blog, Mud Is My Makeup:
Upon entering the Tough Guy section we were immediately transported to another world.

Somehow the woodland seemed darker and more intimidating. Smoke clouds drifted and we were welcomed by Tough Guy's own Ghost Squad [the mysterious painted tattooed clan who appear as if from nowhere to assist those in need before evaporating as fast as they appeared]: drumming rhythmically, creating a foreboding and intense atmosphere.

I had met Ed (Gamester) the first drummer at Winter Tough Guy 2015 where he had pulled me from the thigh deep mud before vanishing, and was pleased to see him here welcoming us in.
Or, in summary:
Making use of other factors rather than just the obstacles, [Tough Guy] created an intense environment perfectly representative of their actual races.
Full post here: http://www.mudismymakeup.com/#!Mudnificent-7-August-1st-2015/c1kod/55bf25810cf2dce5af671a48
HELL YEAH WE DID!
Thus far in Obstacle Race magazine's feedback, 50% of all respondents have declared Tough Guy as the best of all seven zones. I can't really overstate how incredible that is. It's almost at the point where more people thought we were the best zone than thought any of the other six were.
Honestly, however, I'm not surprised. There are some great races out there, but there is only one Tough Guy – and it stands alone.
At the end of the race, we were gifted with t-shirts, burgers, cider and cake – from a variety of lovely people, who had apparently enjoyed our contribution to their day. Just hanging out with them for half an hour or so made all the pain with it. The cider helped, too…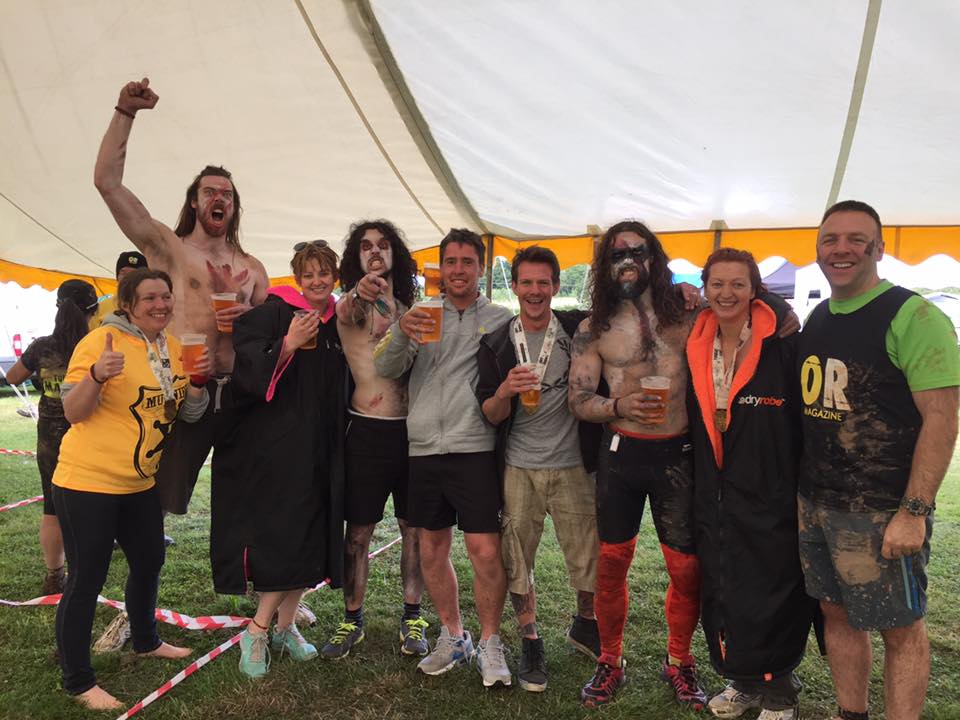 As a final note: of all the videos of Mudnificent 7 out there, this is by far the greatest best: