My alarm goes off to the sound of rain hammering on the window. Good. This justifies my decision to leave the Cairns region and seek adventure elsewhere. The rain has ruined too many plans already.
As my mind clears and my eyes open, I realise something. This is not the sound of rain…this is the sound of the bedroom fan. It is bone dry and wonderfully sunny outside. The perfect day for rainforest adventuring.
Bollocks.
Matt has offered to take me up the Devil's Thumb if I can make it back to Mossman this morning, but alas I have arranged to leave. I came to realise I have been here three and a half weeks already, spent a good deal of my entire budget and not seen anything South of Townsville.
Also, for some reason, the cost of flying to New Zealand also doubles after this weekend – so time is of the essence. Or rather, money is of the essence.
Oh and Rule 2: No Looking Back. The weather was not on my side in the rainforest; it was bad luck and bad timing, but nothing can be done about it now. I must keep moving forwards.
So it is with a heavy heart that I bid farewell to Tone and Yuke, training with the Bulldogs and the prospsect of returning to Juss' tree house, to climb the coolest named mountain and go hunting for ship and plane wrecks.
I will also fly straight past my friends in Townsville and the realistic chances of climbing Mount Bartle Frere this weekend. This annoys me greatly, but spending another week up North would delay my departure to New Zealand and cost me heavily.
Instead, I am heading to Byron Bay.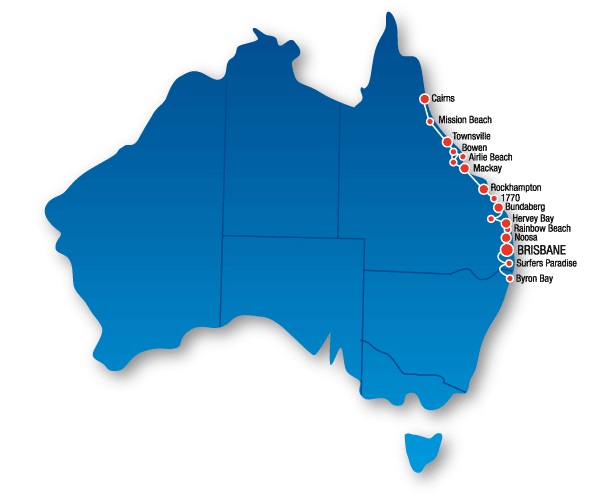 To be honest, I think I've made a very bad choice. Time and money are fading fast, but I should spend another week in Daintree and Townsville, climb the mountain at the weekend and head to Byron Bay next week.
Surely the point of travelling is to relax and enjoy yourself, not rush around to hit self-imposed deadlines. Why do I always force myself to leave, even when I want to stay?
I'm seeking places that make me feel content yet, every time I find one, I leave within days. I'm starting to wonder why I'm really out here – what am I trying to achieve?
No adventure was ever found by sitting still, but today I am struggling to uphold Rule Four: Regret Nothing.
I fear I have made a terrible miscake.