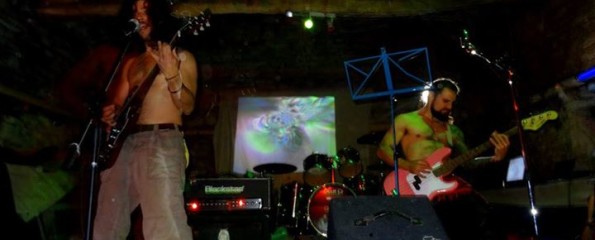 Finally, after years in the planning and months of varied degrees of preparation, Bowa Town has played its first gig.
The plan was simple: Will would do guitar and vocals, I would do bass and vocals and we would launch the drum tracks and stage ambiance off a Novation Launchpad. So it was we hauled ourselves all the way to Barn Fest in the Yorkshire Dales with all the necessary gear.
Then, quite drunk and not quite believing it was really happening, we set up and erupted into the set:
Brand New Circus

Old Man Jones

They Call Me "The Gambler"

Rambling in the Mist

Welcome to Bowa Town

((Is this a) Party(?)) (It is)
It went…badly.
We had Will's Gibson SG screaming out of his enormous Blackstar stack. We had the bass pounding out of four enormous speaker cabs. Then we had the drums…playing in Windows Media Player on my laptop, plugged into the sound desk and then out through a small monitor on the stage…
The Launchpad had crashed, so I was having to play the drum tracks individually off my laptop. Without any further amplification or dedicated monitoring, they were quiet out the front and absolutely impossible to hear on the stage. It was an oversight of the most ludicrous proportions and something I should have foreseen months ago.
(It was only the following morning that I realised I could have routed my laptop through my Novation Twitch, which would have  provided some hefty jack outputs and let me run a dedicated stage monitor for the drums… At the time, however, we were in a rush.)
Even so, it doesn't matter. The songs themselves sounded powerful (if out of time) and Will's riffage was exactly as epic as expected. Pulling of the double vocals proved far harder than expected whilst trying to remember the songs, play the songs, watch the drum track on the laptop and (as a man used to wielding a microphone in his fists) position myself in front of the mic at the right times.
Still, even Nirvana's first gig was atrocious (and bloody) and look at the well-oiled corporate machine they turned into!
Onward and upward!