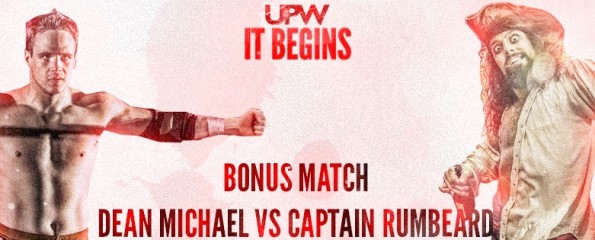 Avast me heart-heart-hearties!
Cap'n Rumbeard will be doing…whatever it is Cap'n Rumbeard does! Against Dean Michaels. Next Friday, 26th of June in Yeovil for Ultimate Pro Wrestling.
Tickets: http://www.skiddle.com/e/12403762 or at the box office at Westlands Yeovil.
The main bulk of the show will be a tournament to crown the first ever UPW Champion, featuring this very impressive lineup:
Marty Scurll
Jonny Storm
Joel Redman
Iestyn Rees
Andy Simmonz
Eddie Ryan
Jason Larusso
Josh Bodom
Psycho Phillips
Charlie Garrett
Charleston
Ryan Hendricks
Doors are at 18:30 and it kicks off at 19:30.
Here are some of the more muscular dudes on display:

Come along!